July 9, 2022
USL-W League Match
Michael A. Carroll Stadium, Indianapolis, IN
Well, done.
The Women's Team wrapped up their season with this visit to Indy Eleven.  Theirs was the first match of a Indy Eleven-Detroit City FC doubleheader with the USL Championship match to follow in the evening.
With colleges calling back their players, the team bus carried eleven starters and five subs from Detroit to Indianapolis and back.  The match was the chance for some new faces to get a look at a spot with the team next year with four new faces donning the City crest and two more who had a sum total of thirty-seven minutes of time on the pitch.
In the starting eleven, Maia Soulis and Lauren Moraitis made their second appearance and first start.  Maia entered the previous home match against Indy Eleven and Lauren saw action in the Midwest United FC match on June 28th.
Cecilya Mernatti, made her debut as a starter.  She is a sophomore at Schoolcraft Community College and earned Honorable Mention All-American honors in her freshman season.  Cecilya had 10 goals and eight assists in 14 games, took 57 shots, 44 of which were on goal and had three game winning goals for the Ocelots. She also won First Team All-Region, First Team All-Conference and All Freshman Team.

Coming in off the bench Taylor Meadows, Brooke Summers and Paige Beaudry made their debuts.
Taylor Meadows is also a sophomore at Schoolcraft Community College who won First Team All-Region, First Team All-Conference and All Freshman Team honors.



Brooke Summers is a University Leggitt High School senior and captain of the varsity girls soccer team and plays club soccer with Michigan Burn.

Paige Beaudry is a sophomore at Spring Arbor University.  In her freshman year, she logged 377 minutes in 15 matches for the Cougars.
The lack of available players provided keeper Gabby Schriver a chance to play as an outfield player.  She's done this before, with the UWS2 team last year in the last match of the season, and she scored a goal in the 5-nil victory over North Oakland FC.

The Women also found themselves against a team involved in controversy between the Brickyard Battalion – Indy Eleven's supporter group – and the Indy Eleven front office.
On June 24, 2022, after the US Supreme Court decision in Dobbs v Jackson Women's Health Center, which overturned Roe v Wade, thereby taking away a women's right to make her own medical decisions, Indy Eleven issued a statement.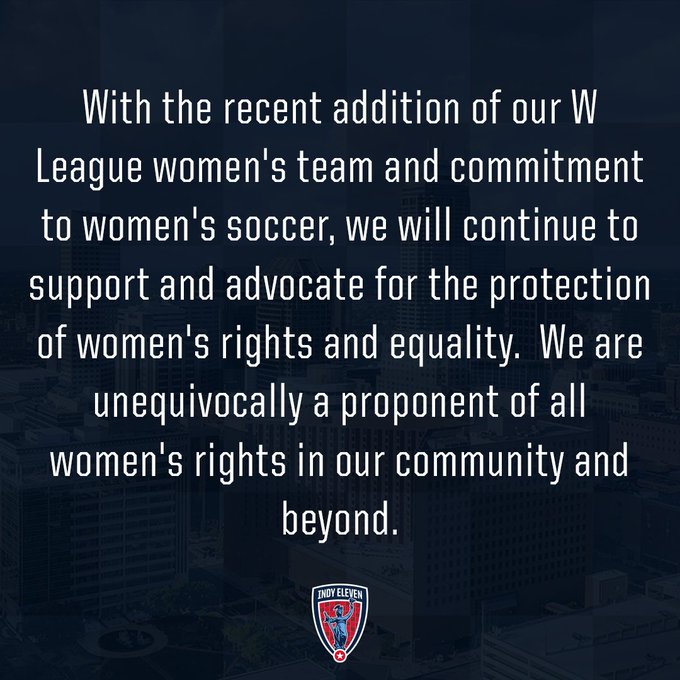 However, when the Brickyard Battalion hung signs stating "Bodily Autonomy 4 All" and "Abortion is Health Care" during their July 2, 2022 home loss against The Miami FC, the team's front office informed them that the could not do so again.
Like any good supporter's group, they took to Twitter first…
Then, at the match, the banners were displayed.
At the beginning of the Men's match, members of the Northern Guard Supporters joined with the Brickyard Battalion in solidarity (see the Men's match page HERE).
INDY ELEVEN
Starting XI
Mackenzie Wood – GK
Julia Leonard – D
Karsyn Cherry _ D
Robyn McCarthy – D
Nikia Smith – D
Ella Rogers – M
Molly McLaughlin – M
Jenna Chatterton – M
Addie Chester – F
Katherine Soderstrom – F
Madison Williams – F
DETROIT CITY FC
Starting XI
Deighton Wamer – GK
Lauren Moraitis – D
Elisa Baeron – D
Maia Soulis – D
Acadia Murphy – M
Gabby Tremonti – M
Shannon McCarthy – M
Ceceilya Mernatti – M
Ellie Pool – F
Kenna White – F
Kayla Addison – F
Unlike the match at Keyworth, Indy Eleven came out on fire.  By the 7th minute of the match, Deighton Wamer was forced to make three big saves and Maia Soulis made a key tackle to prevent an Indy forward from cutting in on goal alone.
City did create an opportunity in the 11th minute.  Shannon McCarthy delivered a long throw in to Kenna White.  Kenna headed the ball toward goal, just above Kayla Addison's attempt to head it on frame.
Two minutes later, Indy was back in the City end, and on a corner kick, Deighton Wamer pushed it away.
The way the first half was going, the inevitable occurred in the 26th minute.  A ball lofted over the back line was received by Katie Soderstrom who squeezed between two defenders to chase it and went in alone on Deighton Wamer, beating her with a well-placed shot.  Indy up 1-nil.
Indy Eleven's domination continued for the remainder of the half, and City was fortunate to go into the locker room down by a goal.  But for Deighton Wamer's saves, and some key tackles by Maia Soulis and Elisa Baeron, it could have been worse.


City had made a substitution in the 31st minute, bringing in Paige Beaudry for Lauren Moraitis, and to begin the second half, Bethany Kopel went between the sticks in place of Deighton Wamer.  Coach Piraine's plan was likely to give every player on the bus time on the pitch.
Ellie Pool lifted the voices of the Northern Guard Supporters.  In the 50th minute, Ellie received the ball, then passed it back to Kayla Addison.  Kayla found Ellie and gave it back to her.  A diving save by Mackenzie Wood denied Ellie's shot from finding the back of the net.  Seven minutes later, the ball found Ellie.  She pulled it back, drawing the defender away which gave her an opening.  Ellie's shot, labeled for the lower right corner, was again parried away by a diving Mackenzie Wood.
Not taking any chances, Indy followed Ellie's chances with two goals.  In the 60th minute, chaos within the eighteen yard box resulted in Abby Chester finding the ball on her foot.  Her shot between a defender's legs and under Bethany Kopel doubled their lead.  A minute later, Indy's offense created chaos again.  Bethany Kopel made three stops and Maia Soulis was called for a take-down of Karsyn Cherry in the box and the referee pointed to the spot.  Bethany dove to her left and Katie Soderstrom's shot went just beyond the reach of Bethany's fingertips.  Soderstrom recorded her second goal of the game, matching her two goal performance at Keyworth in Indy's 3-nil win.
From that point, the air left the match on this hot afternoon.  The subs came in:  Taylor Meadows in for Kayla Addison in the 65th minute, Brooke Summers and Gabby Schriver in for Elisa Baeron and Ceceilya Mernatti, respectively, in the 74th minute.  There was still some fight on the pitch for City, but the chances were just not created.  Shannon McCarthy was shown a yellow card in the 83rd minute.
Player of the Match:  Deighton Wamer
The season ends with City having a 3 win, 3 draw, and 6 loss record, finishing 5th place out of 8 teams in the Great Lakes Division.  For only our second full season of women's soccer, and step up into the USL-W league, it's not a bad showing.  When you look at the teams that finished First through Third in the division they have histories of development and professional league ties in women's soccer.   Indy Eleven has been a professional 2nd Tier team since 2014, first in the NASL then into the USL.  Midwest United FC was established in 2015, but has been developing boys and girls soccer in the Grand Rapids area since the early 1990s.  Racing Louisville FC was founded in 2019 as a NWSL professional women's team under the ownership of Louisville City FC, with the USL-W team being their 'B' team.  It wasn't until 2019 that we began youth programs for boys and girls and made our announcement of creating a women's team as our organization was moving from the NPSL fourth-tier to the pro ranks.
The fourth team ahead of us was AFC Ann Arbor.  They've had a little head start on us, announcing a women's semi-pro side in 2018.
A lot of good players wore the crest for City this season.  But a consistent, cohesive roster seemed to be the Achilles' heel.
Thirty-seven players saw action in at least one match of the twelve this season.  Only two players – Elisa Baeron and Ellie Pool – played in every match, and six others played in 10 or more (Emilie Gardner, Shannon McCarthy, and Madison Duncan in 11, Allyson Childers, Brynn Gardner, and Kenna White in 10).   With Gabby Tremonti making 9 appearances, Rylee Clark and Brooke Sleeva making 8, and Kayla Addison making 7 appearances, and four different goalkeepers defending our nets, that means of 33 outfield players, 21 made appearances in half the season or less.  The complete 'unofficial stats' can be found HERE.
On July 23rd, Shannon McCarthy swept the awards for the Women's Team.  She earned The Black Arrow Award for Most Valuable Player presented by the team, and Le Rouge Legacy Award presented by the Northern Guard Supporters to honor and recognize the player who has exemplified a dedication to the supporters of Detroit City FC and community.
STATS (from the Indy Eleven match)
Indy Eleven 3, Detroit City FC 0
Indy: Katie Soderstrom 26′
Indy: Abby Chester 60′
Indy: Katie Soderstrom (PK) 62′
ATTENDANCE:  ?
City had 4 shots (Ceceilya Mernatti 2, Ellie Pool, Kenna White).  Indy Eleven had 15 shots.
Deighton Wamer made 6 saves and Bethany Kopel made 5 saves for City.  Mackenzie Wood made 3 saves.
In other Great Lakes Division action on Saturday:
Flint City AFC 0, Racing Louisville FC 3
Kalamazoo FC 8, Kings Hammer 0
AFC Ann Arbor 2, Midwest United FC 0
GALLERY